Model 12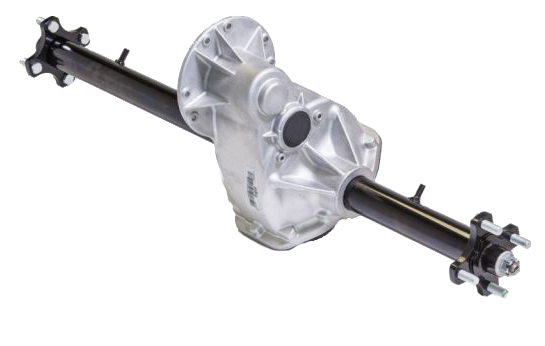 The Schafer H-12 Electric is used in more electric golf cars than any other axle. Its ground gears provide the highest-quality, quietest axle in the industry. And the aluminum housings, gears, axle shafts, axle tubes and brakes are all made in the U.S.A. for unparalleled quality. Let Schafer customize it to your specifications to ensure your recreational and light-utility vehicles surpass your competition.
Model H12 Details
High-efficiency model features quiet helical gear design
Typical load ratings of 1,200 to 1,800 lbs. (545 to 815 kg)
Heavy-duty load ratings of approximately 2,200 lbs. (1000 kg)
Designed to accept electric motors
Available ratios range from 10.35 to 16.99
Input torque ratings: 16 ft-lb (22Nm) continuous; 64 ft-lb (87Nm) maximum intermittent
Brake options include 160mm (mechanical or hydraulic) or 7" (178mm) (mechanical or hydraulic) drum brakes
Wheel mounting options: 4 on 4" (101.6mm) B.C. or 5 on 4.5" (114.3mm) B.C.
Optional independent suspension design
H12 FNR Axle

Your high-quality solution for gas golf cars and small, light-duty vehicles.
Model H12 FNR Details
High-efficiency model features quiet helical gear design
Nominal load rating is 1,500 lbs. (680 kg) (a heavy-duty version is available)
Mechanical "rotary actuating" ground speed governor (optional)
Mechanical "rotary" shift forward to reverse
Available ratios:

Forward 10.15:1 to 15.99:1
Reverse 11.15:1 to 14.36:1

Standard input torque ratings: 24 ft-lbs (33Nm) continuous; 96 ft-lbs. (130Nm) maximum intermittent
Brake options include 160mm (mechanical or hydraulic) or 7" (178mm) (mechanical or hydraulic)
Wheel mounting options: 4 on 4" (101.6mm) B.C. or 5 on 4.5" (114.3mm) B.C.
Optional independent suspension design
Bolt-on module provides manual operation to lock/unlock the differential
Rotary actuator with a lever is available in four different locations